Long or difficult lessons can really impact a child's ability to concentrate and absorb their lessons. If you have ever experienced this, you will know exactly what I'm talking about with how you seem to just 'lose you child's attention' and can't seem to get it back. That is where The Ultimate Guide to Brain Breaks can enhance your homeschool and your child's ability to learn and why it made it in my Review Series.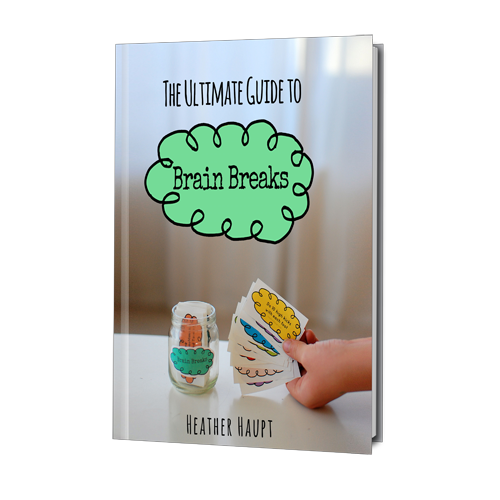 As I was reading this ebook written by Heather Haupt, I was picturing all the times my own children have stared at me when their lessons went longer than we normally practice with the Charlotte Mason method.  I work to implement the philosophy to stop before you reach this place with a child, but sometimes this moments are hard to avoid.
Heather explains the reason why brain breaks are important and how they really work within the brain.  What I loved most about this ebook was her practical advice of how to implement the brain breaks between subjects or when you have physical proof that you have lost your child's attention.
Not only does she give examples and ideas of how to implement brain breaks that can involve some or all of the body, but she also includes printable brain breaks that you can print out and have as a resource for when these are necessary in your homeschool.  You can have the child pick their own brain break and see just how effective these can be to getting their attention back to what is important and finish the task at hand.
As a homeschooling parent of 15 years, I know that when I find a good thing, my children can use it against me.  Brain breaks could easily become that for some children, so implementing boundaries and using it as a tool that it is designed to be is really important from the beginning.  Having a child that already demonstrates the lack of self-control to finish a short lesson shouldn't be rewarded with a brain break, but should be required to earn it.
Here is how I would implement The Ultimate Brain Break to enhance my homeschooling with my younger child and elementary aged child:
Implement short lessons – Short lessons are crucial for children with self-control challenges and learning disabilities, however all children benefit from shorter lessons because this natural eliminates the challenges that longer lessons create.  Start with a few minutes first for those who really struggle and build up to no more than 15 minutes.  Use Brain Breaks as a reward for getting the lesson done.
Be attentive to your child's body language – If you can witness concentration and then see a change in their behavior, like what is explained in the ebook, implement a brain break for just a few minutes. Come back to the lesson and finish it.  Don't allow the habits of distractions be built up within your child or you could be creating more challenges down the road.
Use them for only homeschool brain breaks – You can over do having a good thing.  Tools should be used as a tool and not as a free game. Allowing your children free access to these brain breaks at any time during the day will cause them to be less effective when they really need it and could benefit from them.
Praise the smallest of accomplishments – Words of praise for overcoming difficulties can really be a tool that can be used liberally with great results. Sprinkle praise and encouragement throughout your school day!
Get your copy today and save 25% through the end of March with discount code "GoodThings".