After 14 years of homeschooling, I have been hearing wonderful things of a program I have never heard of and having a 10 year old that has been struggling with the current spelling program, plus a 3 year old, I wanted to check it out. That is when I contacted All About Spelling and asked to do a review and giveaway for them.  They sent me a complimentary program to review and write this post about my honest opinion of it, while offering to give one of my readers a $50 gift certificate toward their product. There are affiliate links within this post of new 'good things' that I'm exciting to share with you.

I have used the phonograms as an important part of teaching spelling to all of my older children, so when I opened up the box and saw phonogram titles, I was so excited! I get giddy over the little things in life.
Over the course of several days, I would find a few minutes here and there to look through the program.  It only took me about 5 minutes to look at the Teacher's Manual and I was hooked on this spelling program. It literally uses all the learning styles (auditory, visual, kinesthetic) to teach phonograms, English rules and spelling. The hands-on approach with the phonograms is something that I have never seen in a program before and immediately I could see how this was going to be the answer to my son's spelling struggle.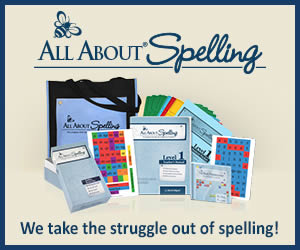 Deluxe Interactive Kit is a non-consumable package that will be used in all seven-levels of this program.  This includes the wonderful tiles that I already mentioned, magnets to adhere to the back of the tiles and the phonogram CD-Rom, which my three year old is loving to do on his own. It also includes the great box to store the flash cards, along with the divider cards to separate the cards for future use, review and mastery, the great tote bag for a way to store it all together and little tokens for him to learn how to break up a word to spell all the parts.  By far, this is my favorite part of the program because it gets my son using his hands and learning the way that is best for him. 
The Teacher's Manual is easy to understand and all the steps are laid out for the teacher to walk through the entire lesson with confidence, while helping even a struggling speller to feel accomplished. In addition to all the great teaching tips through out the lesson, there are also phrases for dictation. This Charlotte Mason educator really loves that part!
I'm so excited about adding this program to our homeschooling, because it is so thorough and complete in each area of learning that I am very confident that my ten year and even my three year old is going to love how spelling just became fun!
Now it is time for one of my readers to get a $50 gift certificate to use toward a purchase of All About Learning system.  Be sure to enter as many times as you desire before April 18th, 11:59pm EST.
Winner will be announced on Saturday, April 20th.